Ajay Shalwala, M.D.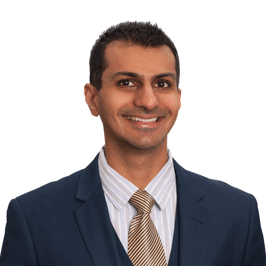 Dr. Shalwala is an ophthalmologist who graduated summa cum laude from Yale in chemical engineering and went on to complete a cornea fellowship at Wills Ey
Dr. Ajay Shalwala grew up in the Washington, DC suburbs. He received undergraduate training at Yale, graduating summa cum laude in chemical engineering. He then attended medical school at Washington University in St. Louis. He moved to Nashville, TN to complete ophthalmology residency at Vanderbilt University.
In order to complete further training beyond residency, he went on to a cornea fellowship at the Wills Eye Hospital in Philadelphia.Dr. Shalwala is board certified by the American Board of Ophthalmology and has professional affiliations with the American Academy of Ophthalmology, the American Society of Cataract and Refractive Surgeons, and the Cornea Society.
Dr. Shalwala practices comprehensive ophthalmology, with a special interest in medical cornea and refractive surgery, including premium intraocular lens implants with cataract surgery. In addition to his special interests, he provides medical care and laser treatment of glaucoma, medical retina treatment including treatment for diabetic eye disease and macular degeneration, as well as routine eye care for all ages.