Jason G. Moyer, O.D.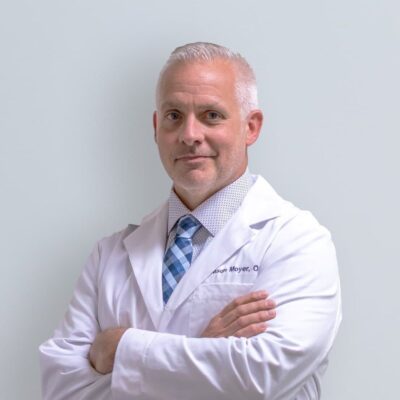 Dr. Jason Moyer, O.D. has been serving the patients of Delaware Eye Care Center since 2004. He currently practices in the Milford and Dover (Rudnick Lane) locations where he offers full scope optometric services to all age groups.
Dr. Moyer earned his undergraduate degree in Biology with a minor in Military Science from Gannon University in 1995. He was commissioned in the United States Army in 1995 and given an educational delay to attend optometry school. He earned his Doctor of Optometry degree from the Pennsylvania College of Optometry in 2000. Upon graduation, he entered active duty in the United States Army. Dr. Moyer practiced from 2000-2002 at the Optometry Clinic at Fort Meade, MD serving both active duty service members as well as dependents and retirees. In 2002 he was transferred to Fort Drum, NY and became the Division Optometrist for the 10,000 member 10th Mountain Division (Light Infantry). Following his military career, Dr. Moyer and his family relocated to Delaware in 2004.
Dr. Moyer has served as a National Board of Optometry Examiner and holds affiliations with the American Optometric Association and the Delaware Optometric Association.